Article originally published at http://isciencemag.co.uk/features/we-are-stardust/.
The human body consists of around 37.2 trillion cells, each made up of different kinds of molecules, and each containing several different types of atoms that are categorised into elements. These elements, built into molecules like DNA, RNA, enzymes, proteins, haemoglobin and others, constantly execute an array of processes within your body that keep you alive and functioning.
But where do all of these building blocks come from? The answer to this question may seem somewhat surprising. The simplest elements in the universe can be traced back to the Big Bang itself, but the majority of the elements inside our bodies can be traced back to processes that occur inside stars. We are all stardust.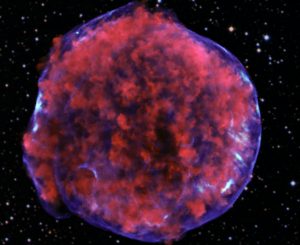 Stellar Nucleosynthesis
Stars are huge thermonuclear power plants that release vast amounts of energy into space, mainly through the fusion of simple elements into heavier elements. For stars with a mass up to one and a half times that of our sun, the main process is the fusing of hydrogen to form helium. Energy released in this process counterbalances the effect of gravity such that as long as the star has hydrogen to burn, it does not collapse.
This process of nuclear fusion occurs in most stars over periods spanning billions of years. Our Sun has been burning hydrogen for around 4.5 billion years, and we estimate that it has about another 4.5 billion years of fuel left. Although the main nuclear reaction occurring in the star produces helium by fusing hydrogen atoms, sometimes the reaction goes further. In the core of stars with masses close to that of the Sun, helium atoms can fuse together to create beryllium, which can then fuse with helium to create carbon, the most important element for life on Earth. Heavier stars (more than eight times the mass of the sun) can create even heavier elements, such as the calcium and iron that are integral for your body to function.
Stellar Death, Terrestrial Life
As a star runs out of fuel and reaches the end of its life several things may happen, depending on its mass. If a star is large enough (about greater than three times the mass of the Sun), after it has used up its hydrogen fuel it begins fusing helium in a cooling, expanding outer shell. These 'Red Supergiants' continue burning for around a million years or so before instantly collapsing under their gravitational interactions. This collapse causes one final rebound due to energetic interactions within the core and the star explodes into a spectacular 'supernova', throwing elemental products out into interstellar space.
Smaller stars (of about the same mass as the sun) also expand as they use up their fuel. However, the end of their lives is a much tamer affair as they shed off their outer layers into a 'planetary nebula' – a cloud of dust that surrounds the core.
The dust that is left in the aftermath of stellar death contains a wide variety of elements, including those very heavy elements produced during the end stages of the star's life. This interstellar debris then begins to collect under its own gravity: swirling, colliding and clumping together to create large pockets of gas which will eventually collapse under gravity to produce a new star. The heavier elements will similarly collect to produce rocky material and eventually form planets like the Earth. The elements that were created inside the star and expelled at the end of its life then reside throughout the planets formed. The majority of the time, these elements will have combined to form complex compounds, found as minerals in the Earth's crust.
As life evolved on this planet, it used the raw materials in these compounds to build sophisticated biological systems. Fast forward approximately 4.5 billion years and you have the huge cornucopia of plant and animal life that we observe on Earth today, including ourselves. So whenever you think of the origins of life on this planet, and think of the origin of the parts that make up your own body, remember that you should thank your lucky stars that you are here. Literally.
Images: Tycho Supernova Remnant (NASA).